Details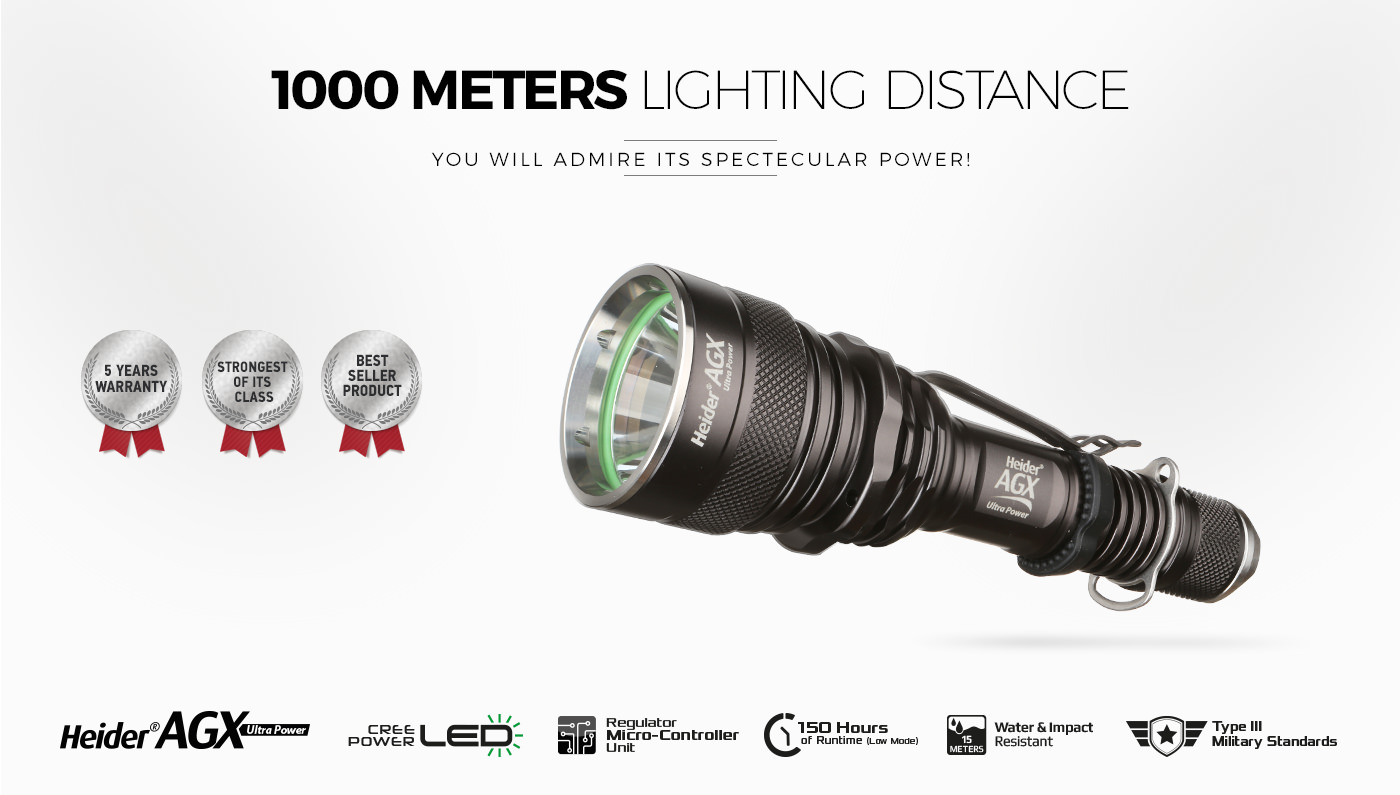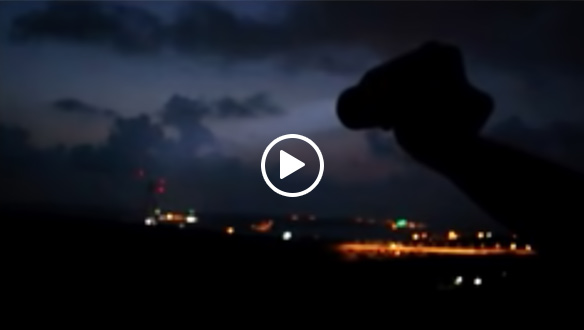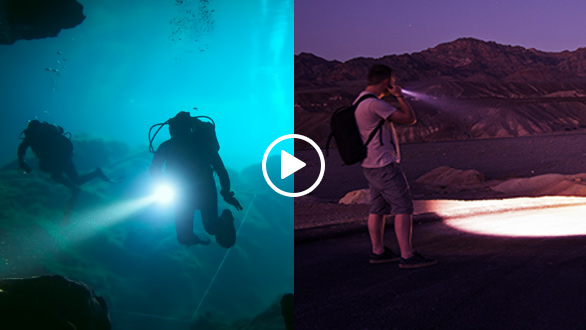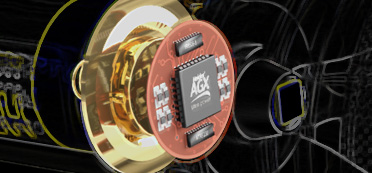 Regulator Microcontroller Unit
AGX has more power with its high performance DD3U motor micro RSL driver circuit.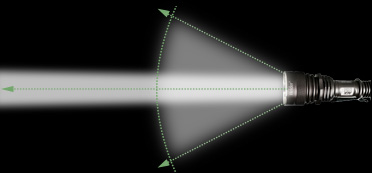 Long Range & Wide Angle
Heider AGX has an amazing illumination power using the advanced Cree Power LED technology.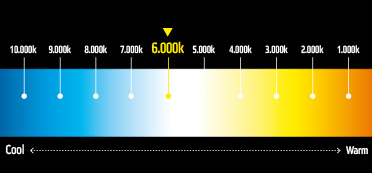 Daylight Power
Heider AGX supplies 6000-6500 K white balance which is called daylight.
Heider AGX provides you an effective performance anytime and anywhere
you need with its 3 regular and 3 hidden lighting modes!
Fixed Focus with Long-Distance Beam
AGX has more power with its high performance DD3U motor micro RSL driver circuit. Heider AGX has an outstanding light power you can switch between 3 regular modes; high, low, ultra low and provide light source up to 150 hours in ultra low mode.
Emergency Lighting Modes
Heider AGX deserves to take its place in your backpack and your emergency case. Heider AGX is your emergency savior with its 3 hidden emergency lighting modes; SOS, strobe, Locator Beacon(LB) and Morse. Simply press on/off button repeatedly to switch emergency modes.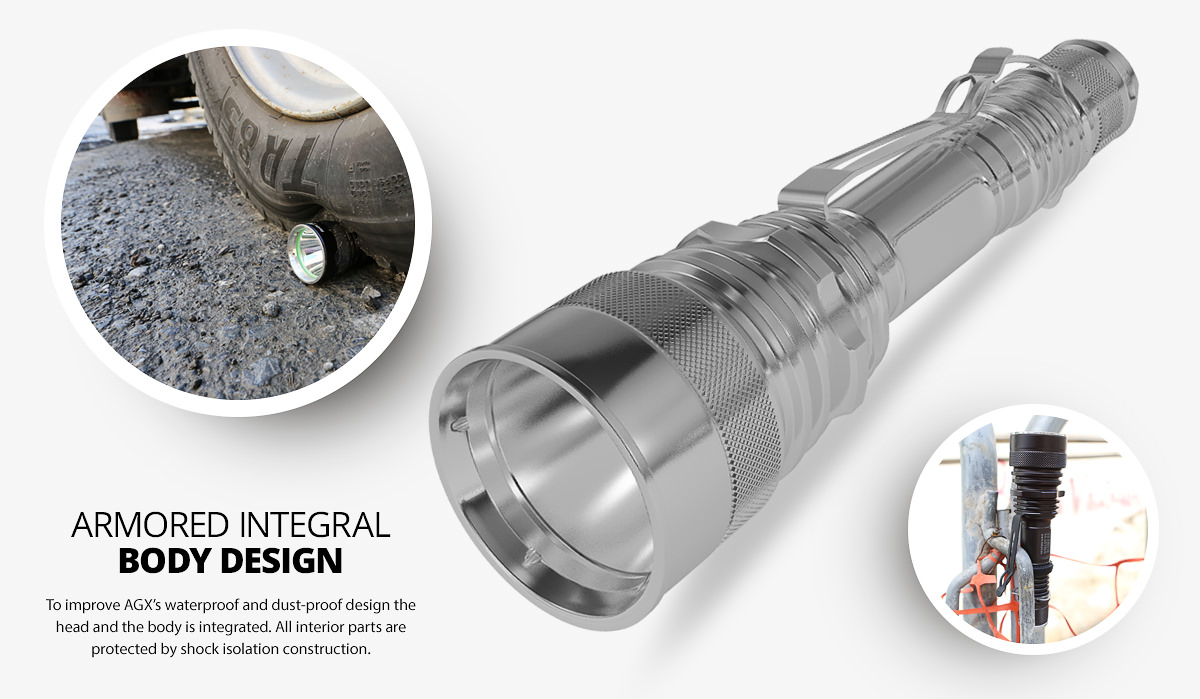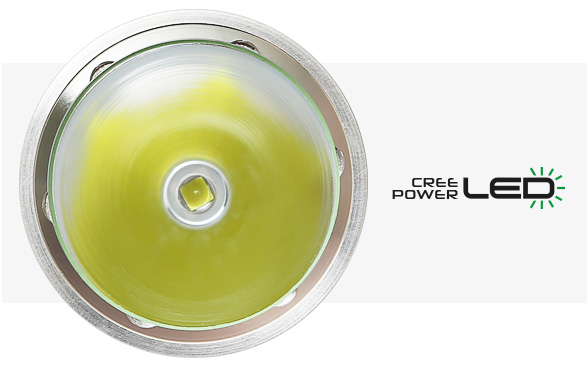 CREE Power LED
Heider AGX is equipped with CREE Power LED Technology and its white balance is around 6000-6500 K which is called daylight. AGX's special cut tempered mineral lens allows its beam to reach 1000 meters.
Gold plated interior system parts
As a powerful tactical flashlight, AGX has gold plated interior parts which is one of the most conductive metals in the World. The combination of gold's resistance to corrosion and its conductivity make this metal an extremely valuable resource and this flashlight a powerful long-lasting gadget.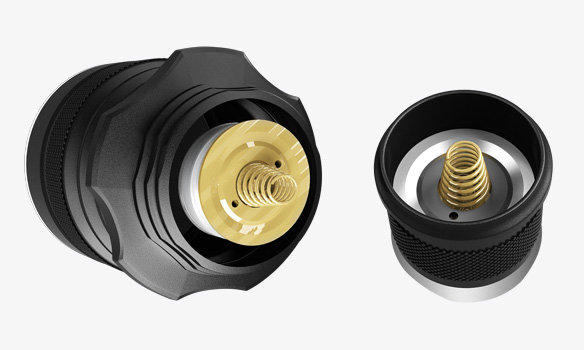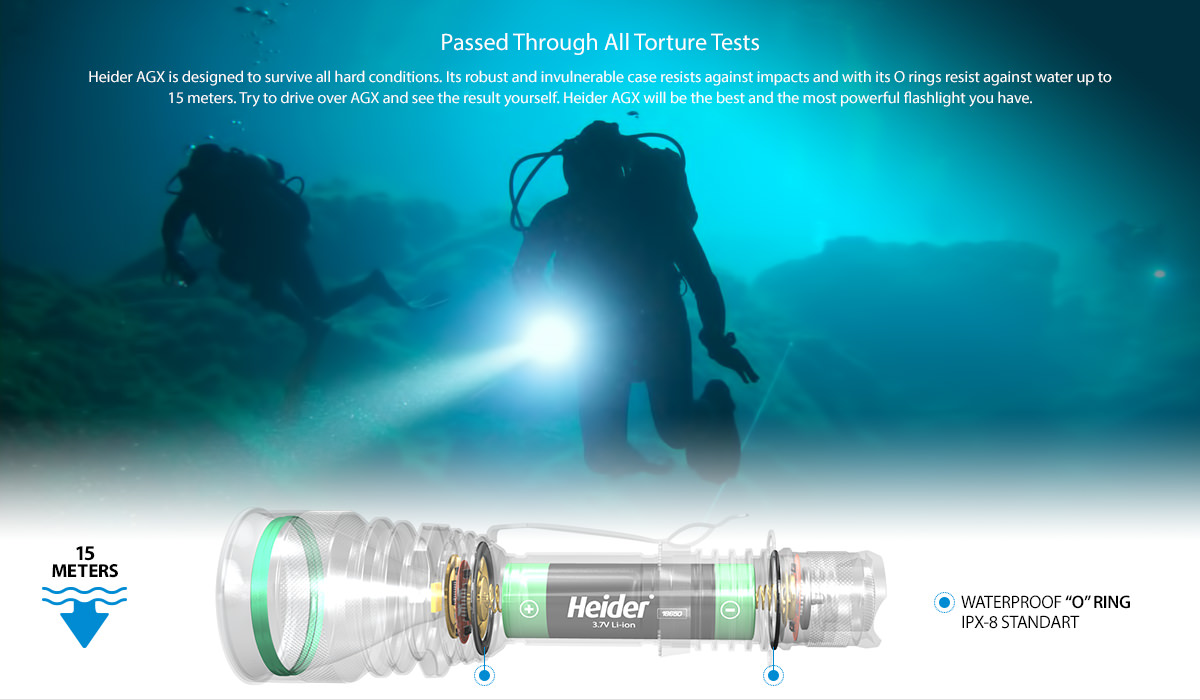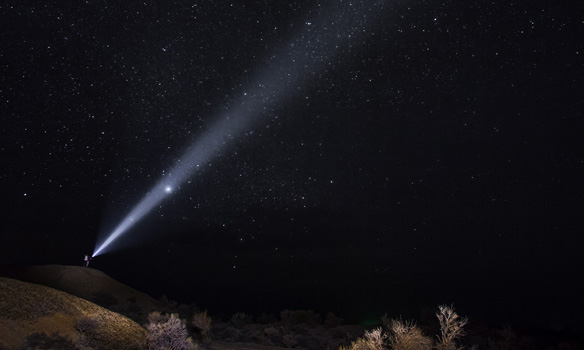 Pierce the Darkness
Besides its amazing power and durability, Heider AGX has 150 hours of runtime in lowest mode. In any situation, Heider AGX is the best torch you can have and more than all other regular torches. Power, durability, performance… All in one solid package.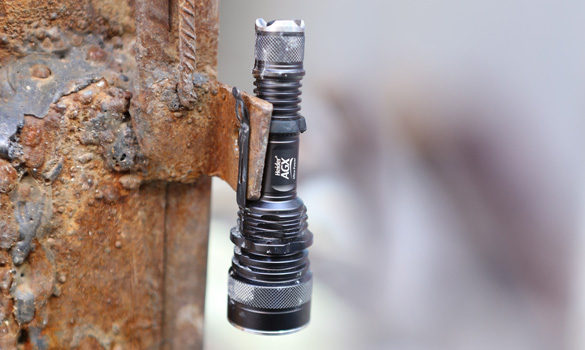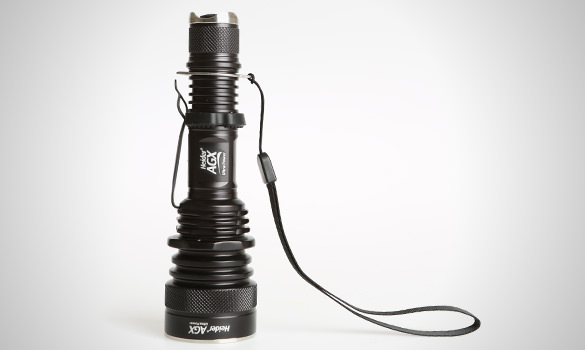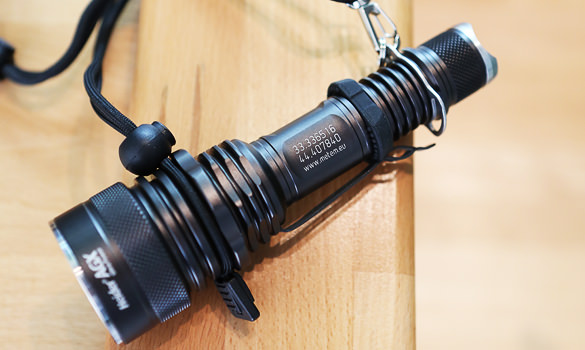 Handy, Powerful and Manly
Heider AGX is designed to conform to your activities at the best. Easy to carry with its 3D belt clip and wrist strap. Its special design XRD cord offers a bunch of carrying alternatives. You will pierce the darkness with this amazing torch!
Military Type III Casing
Heider AGX tactical torch meets all Military Standards with its design, invulnerable casing, tempered anti-reflective coated mineral lens and high power Cree LED. Consider AGX as a top ranked special forces unit of flashlights, you can always depend on.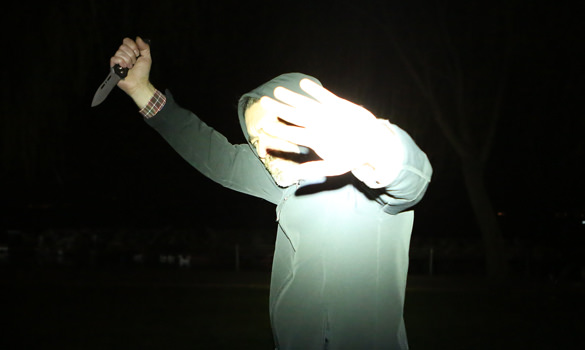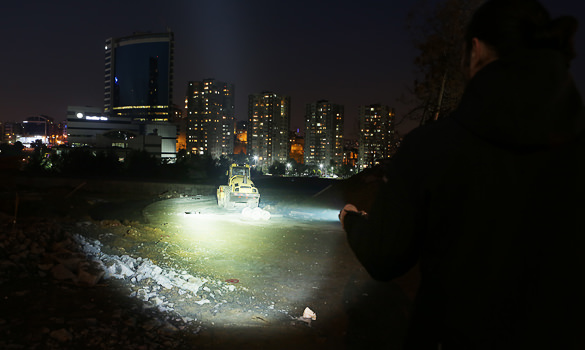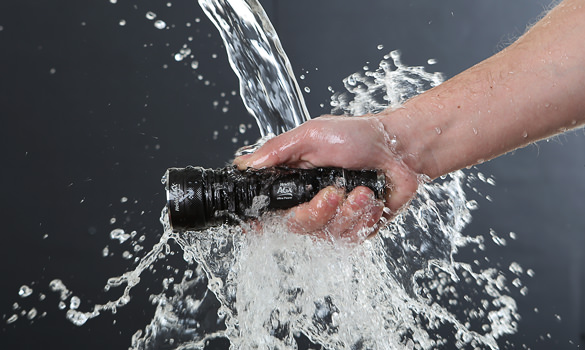 Temperature regulation
Heider AGX is a performance torch and unlike others AGX can detect its body temperature and simultaneously adjust its output performance to prevent any undesired situation. AGX's cooling fins help to reduce the body temperature to provide the best performance consistently.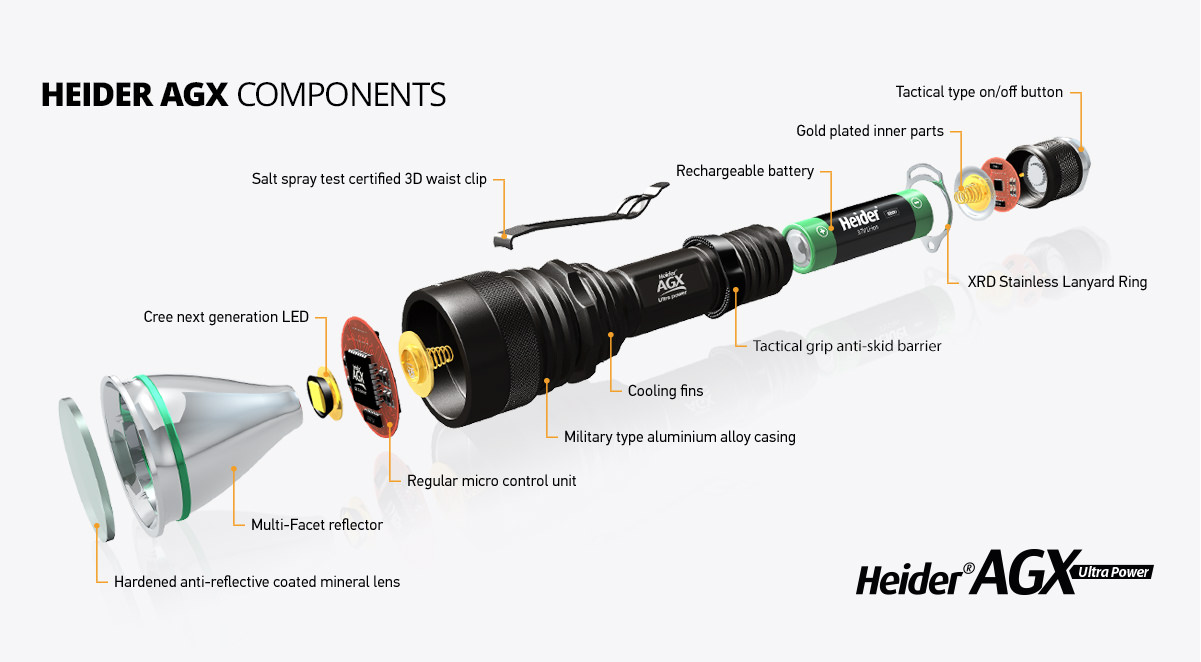 TECHNICAL FEATURES
| | |
| --- | --- |
| Led power | Enhanced High Power LED |
| Driver circuit | DD3 Engine Microprocessor LED RSL |
| LED lifetime | 100.000 hours |
| Lens | Tempered Mineral TIR lens |
| Main Body | Aluminum Alloy Military Type Casing |
| Title | Tactical Type Throw Torch |
| Beam Distance | 1000 meters |
| Light Color | Daylight White |
| Body color | Gun Grey |
| Battery life | 1000 times |
| Water-resistance | 15 meters |
| On / Off button | Click Type with 3 Lighting Modes |
| Dimensions | 160mm x 46.5mm |
| Weight | 224 gr |
BOX CONTENTS
1x Heider AGX flashlight
1x Battery Charger
1x Rechargeable 18650 3.7V Battery
1x Special Design XRD Cord
1x Wrist Strap
1x Spare Switch & Switch Module
2x Spare O-ring
USB Cable
User Manual